Conférences Françaises
Ce mois-ci est particulièrement actif en terme de conférences françaises, puisqu'après un détour à Toulon pour les PGDay.fr nous avons un Meetup à Paris puis une conférence PHP Tour 2014 à Lyon.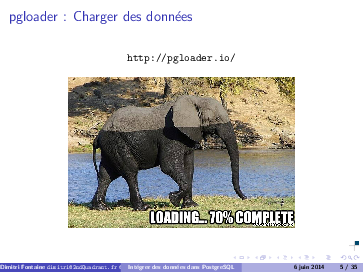 PHP Tour 2014
À Lyon avec les développeurs PHP nous aborderons ce que signifie Utiliser PostgreSQL en 2014, et voici le résumé de la conférence :
À l'heure où le NoSQL passe de mode doucement, il est temps de se poser les bonnes questions vis à vis des technologies de bases de données à utiliser, comment et pourquoi. PostgreSQL entre de plein droit dans la case des SGBD relationnels classiques, aussi nous commencerons par étudier ce que de ces outils apportent. Puis nous ferons le tour des fonctionnalités avancées de PostgreSQL, qui le positionnent comme un élément clé de votre architecture d'application.
PostgreSQL Meetup Paris
À Paris dès ce mercredi, nous nous retrouverons dans les locaux de Le Bon Coin pour un Meetup PostgreSQL très chaleureux où Jean-Louis nous parlera de leur utilisation de PostgreSQL, et en particulier du fait que 2TB of RAM ought to be enough for anybody!