That conference is an all french conference, so the details about the talk and the talk slides itself are in french. If that's not a language you grok, sorry for the inconvenience!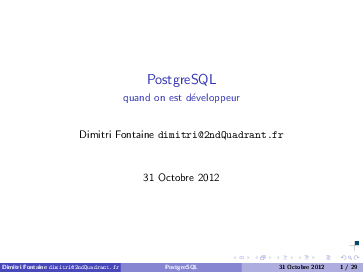 Pour beaucoup de développeurs le SQL se limite au travail d'un ORM ou bien à ces chaînes de caractères qu'il faut embarquer dans le code, de manière plus ou moins statiques, et dont on aimerait bien se passer…
Nous allons voir en quelques exemples pratique comment faire SQL votre meilleur outil dès que vous avez besoin d'analyser des données.