That conference is an all french conference, so the details about the talk and the talk slides itself are in french. If that's not a language you grok, sorry for the inconvenience!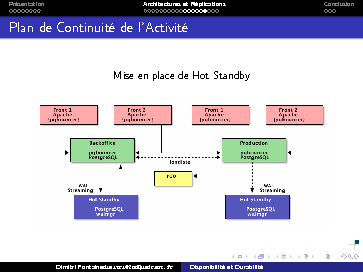 Disponibilité et Durabilité : Architectures et Réplications
PostgreSQL et ses projects satellites permettent de mettre en oeuvre avec simplicité plusieurs types de réplications assez différentes. Nous verrons ici en quoi ces différentes solutions sont complémentaires en illustrant les besoins communs d'un projet d'architecture de taille moyenne : durabilité des données, plans de reprise et de continuité d'activité, procédures de reprise sur incident (erreurs et omissions), etc.
Nous détaillerons comment conjuguer plusieurs techniques afin de répondre au mieux à ces besoins : Streaming Réplication, Hot Standby, walmgr.py, Londiste, Démons PGQ, plproxy.